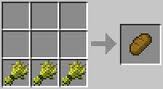 Write the first paragraph of your page here.
Bread in minecraft can heal four hunger bars which is the most any food can do. You craft it by three wheat in a row (picture of how to craft it below) You can get the wheat by going to any NPC village garden and destroying their crops.
Ad blocker interference detected!
Wikia is a free-to-use site that makes money from advertising. We have a modified experience for viewers using ad blockers

Wikia is not accessible if you've made further modifications. Remove the custom ad blocker rule(s) and the page will load as expected.